UK Universities Minister visits ICS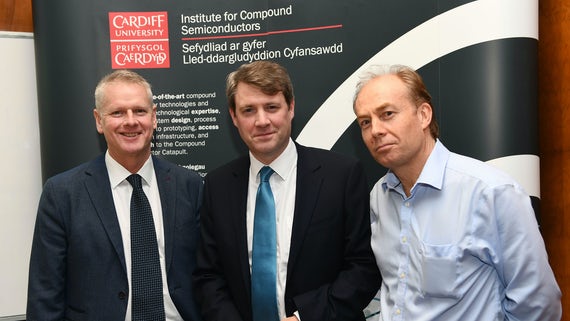 The Institute offers a range of CS solutions for companies working to develop 21st century technologies.
The Minister was able to view the ICS's recently refurbished Clean Room and witness the role it plays in assisting businesses across South Wales as part of CS Connected – the world's first Compound Semiconductor cluster.
The Clean Room, which has undergone a £600,000 upgrade, now boasts new equipment to bring 6-inch wafer fabrication capability online, with support from both the Engineering and Physical Sciences Research Council (EPSRC) and the Welsh Government via European Regional Development Funds totalling £3.3m.
ICS will see further improvements, including state-of-art laboratory space and an increased 8-inch fabrication capability, when it moves into the new Translational Research Facility on Maindy Road – part of Cardiff Innovation Campus.
Chris Skidmore MP said: "Compound semiconductors underpin the whole world of interconnectivity, including everything from smartphones to 'connected living', using technology to make all our lives easier and smarter in the future.
Experts at Cardiff University are at the leading edge of this huge new industry which is worth almost $34 billion (£26.2bn) worldwide. This sector is vital for the future development of our industry and through our modern Industrial Strategy we are investing in research to uphold the UK's reputation as great place for science and innovation."